| | |
| --- | --- |
| Archivists Corner | |
This Club is more than the sum of its parts. But every little part of it adds to our history. As owners of Cocker Spaniels we know the value of Pedigree and this is true of the Club pedigree also.
What is lost, we cannot replace, what is forgotten cannot be remembered, what is destroyed cannot be reconstructed. We are just guardians of the present for our little Club.
As such the archivist's corner is an attempt to preserve the history of our Club and its members. And we are greedy; we want to record it all.
Think how much has been lost over the years, Catalogues, Photographs, Cups, minutes of meetings, and above all the knowledge and lore of our past members.
We don't even have pictures of all our Club Show Champions, let alone their breeders. All lost or forgotten.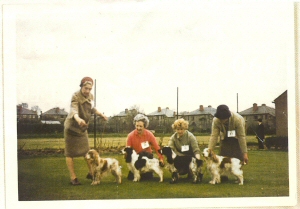 The aim of the Archive project is to preserve our living heritage and recover that which is lost in time. For this we need your help dear reader. Are there hidden away in your house any photographs, catalogues or other memorabilia relating to this Club? Have you a tarnished old Cocker Club of Ireland Cup or silver spoon of bygone days stuck in a cupboard?
If so please contact us, so we can share your items with the community.
What we have
Catalogues




1968
1973,4,6 - Partial, and 1978
1991,3,4,8,9
2000 to date
Club Sec's Notebooks




1942 - 1964
1967 - 1970
1975,7
| | |
| --- | --- |
| Club Committee Minute Books | |
Club Annual/Show Reports




Annual Report 1967 - 68
Annual Report 1974 - 75
Show Report 1984,6,8
Show Report 1993,8 and 2003
Cara na Dilse




Cara na Dilse Vol 1 11 Dec 1927 to
Cara na Dilse Vol 3 1 Jan 1929
Another area we would like to archive are breeder records. When a breeder passes away, much is lost and too often the Kennel history gets lost to the attic or worse still the dustbin. We'd ask the family, should the Kennel be discontinued to consider bequeathing their loved ones Kennel papers, photographs and memorabilia to the Club Archive. These can be scanned and returned or preserved in the archive.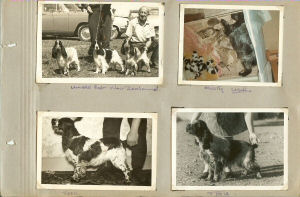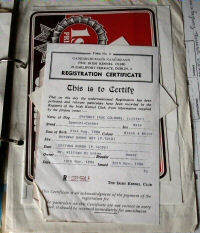 We believe have a duty to remember all these on behalf of our members for the future. Please click on the logo below to open an email window to contact us should you have any items to share with the Club archive.
Thank you: This Club is a living community and your submissions help to ensure this.