Picture
Submission
Guidelines
The Club would love to have members share their pictures of Club events, their dogs and the people involved. Be it a class line up, a funny moment caught on camera or a favourite picture of your cocker surrounded by hard won silverware. We want it for our archives.
While we cannot guarantee you'll see your picture online or in print, you will be adding to what we hope will be a rich archive of the life of our Club for future years and there is always the chance you'll be settling back to a nice cup of coffee and a Club news letter in years to come when the picture you've submitted jumps out at you.

For photographs of the principle winners (BOB, GS winners, Res.GS winners & Best Puppy) to be included with the Show Results (where such photographs are available), owners can ensure that photographs of their dogs are included by sending photos via email to the Club.
Photographs must include a statement by the owner that they own the copyright of the photo or the photographer has granted permission for the photograph to be reproduced and shared by the Club. Photos will not be included without this declaration. By submitting pictures to the Cocker Spaniel Club of Ireland, you agree copyright of the pictures will be shared with the Club for Club purposes.
Preferred photograph size is a maximum of 800 x 600 pixels. Although photographs will be generally be scaled down for website purposes.
Please include your name, address, telephone number and email in all correspondence.
Also include details to identify the dogs, people and occasion shown in the photograph.
Paper photographs of past shows may also be submitted to the Club for scanning to an electronic format for preservation in the archives. The photographs will of course be returned to their owners.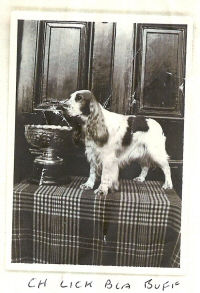 To submit pictures or to contact us to arrange a scan of paper photographs for the Club archives please click on the logo below to open an email window.
Thank you: This Club is a living community and your submissions help to ensure this.