Club History
The Irish Spaniel Club held its initial meeting at Carlow on September 19th 1923, nine persons present; Mr. J.A. Carbery was elected President. The Hon Treasurer was Mrs. Grace Scott Moore and Vice President and Hon Secretary, Mr. O'Kearney White. Others present were Messrs. J. C. Weir, Edward Earnest Lindsay, William James Lindsay, R. Burris, Patrick O'Brien and Captain Stoker. The annual subscription was fixed at one guinea.
On Friday, May 10th 1929, following a General Meeting, the Irish Spaniel Club was dissolved and it was agreed...
"The Club was to be known forthwith as The Cocker Spaniel Club of Ireland".
And the subscription was reduced to 10/6.
1929 First Officers & Committee of The Cocker Spaniel Club of Ireland
| | | |
| --- | --- | --- |
| President: | Mr. Maurice McCartie, Killarney. | (McCaura) |
| IKC Delegate: | Mr. Patrick O'Brien, Bray. | (of Bray) |
| Hon. Secretary: | Mrs. M. F. Rathborne, Fermanagh. | (Indigo) |
| Hon. Treasurer: | Mrs. Grace Scott Moore, Wicklow. | |
Committee
Miss. E. Provis, Dublin.
Mr. Patrick O'Brien.
Mr. J. A. Carbery, Drogheda. (of Boyne).
Rev. Bro. A. D. Ryan, Drogheda. (Linen Hall).
Mr. Edward Earnest Lindsay, Roscrea. (of Rosemount).
Mr. Michael J. Hoey, Bray. (Quinsboro').
Shows
The first Club Show was held in Goff's Repository on Mount Street, Dublin in 1930 with Lieutenant Colonel. John T. Kyffin R.A.M.C. as Judge.

Followed by Field Trials in 1931.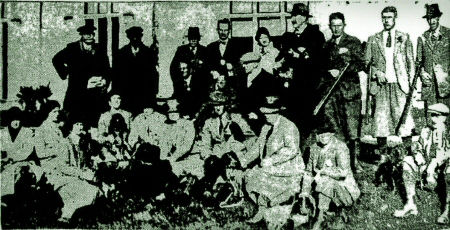 Club Field Trials. A group at Colonel and Mrs. Scott Moore's residence at Kilbride on Saturday, October 24, 1931. It includes Colonel and Mrs. Scott Moore, Mr. J. A. Carberry, Miss. D. M. Fagan, Miss. V. Tynte, Mrs. M. F. Rathborne, Mr. W. Greenfield, Dr. J. W. Dawson, Mr. W. McCausland and Miss. M. Esmonde.
Unfortunately, the Annual Field Trials did not survive World War II owing to a lack of competitors in Ireland at the time.
Green Stars were offered at all the Club Shows although on several occasions these were held in conjunction with general Championship Shows, never the less since 1930 only three years passed without a Club Show.
The Club held its first Championship Show in 1933, with 150 Class entries.
| | |
| --- | --- |
| Miss. Nanette Nesbitt, with "Friend of the Dom" who owned by Mrs. M. Nesbitt, took a 1st in Maiden Dog and a 2nd in Puppy Dog classes at the Club Championship Show in Dublin on Saturday, 13 May, 1933. | |
Features of the Club's policy were postal voting for annual Officers to give long distance Members the benefit of expressing their views, similarly, all Members could vote for the Club Show Judge, and finally there were Reports containing much useful information on the previous year's work, all for the same original subscription until Decimalization. The Subscription in 1973 was 75p.
In 2008 the Club celebrated its 75th Championship Show and 2009 sees the Club eighty years young and with its first presence on the World Wide Web.
We hope this website honours the memory and gives thanks to all Members, Exhibitors and of course, Cocker Spaniels who have made our little Club what it is today, as well as providing a useful resource to the current and future generations.