The Lick Bla Cup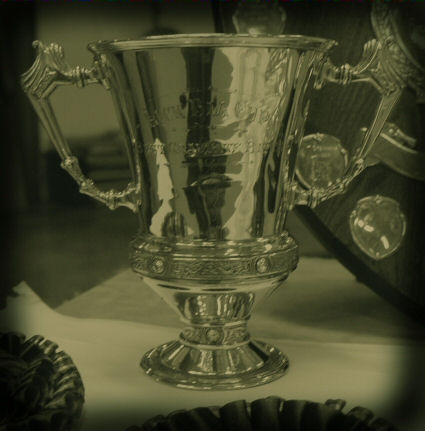 Lick Bla Cup

Best Graduate Bitch

Won By
Presented for the Club in 19?? by Miss. D. M. Fagan.
Offered
1962 Best Black Dog, owner never having won a green star in the breed.
2009 Maiden Dog.
Engravings/Plaques
1954 W. D. Smyth's - Presentation Saucy Sue
1961 Mr. J. M. Buckley's - Tipstaff Covergirl
1962 Mr. T. J. Cardy's - Coral of Reaghbel
1963 Mr. T. J. Cardy's - Coral of Reaghbel
1967 K. Creamer - Cretoka Silver Tassie
1969 Miss. Fagan's - Lick Bla Blondetta
1972 S. Ryan - Wyndara Jules Rimet
1973 Mr. T. J. Cardy's - Reaghbel Cutlette Girl
1974 Mr. T. J. Cardy's - Reaghbel Cutlette Girl
---
Int. Ch. Lick Bla Bernice and Lick Bla Buff (1958 Ch) Breeders Bowl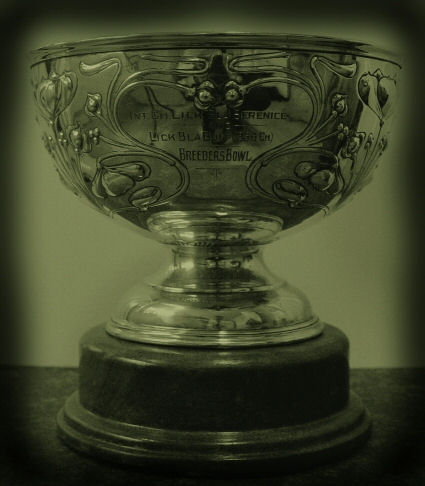 Presented by Miss Dorothy M. Fagan

Best Cocker bred and handled by exhibitor who also owns the dam.
Hawksworth, Eyre & Co Ltd, Sheffield, 1904 Hallmark
Offered
1956 Best Puppy, dog or bitch, not having won a Green Star. Resident in Ireland.
1974 Condition changed to - "Best Puppy, dog or bitch."
1991 Condition changed to - "Winner Puppy Bitch".
Engravings/Plaques
1965 Mrs. M. Snary's - Platonstown Lovely Cottage
1973 Miss. Salley's - Sonwie of Wicklow Hills
1974 Dolan's - Harlington of Regles
1980 Mrs. R. Ryan - Fortbreda Shining Star
1984 Mrs. M. F. Wilsons - Kepplegate Touch of Gold
1986 Tom Burgess - Majicem Emma Jane
---
Miss. D. M. Fagan
Of Lick Bla, Castlepollard, Co. Westmeath. Lick Bla Affix.
Born shortly after the turn of the century, Dorothy was one of the early members of the Cocker Spaniel Club of Ireland, acting as Club secretary and then as Honorary Secretary for many decades.
She can only be described as a bastion of the Club. As Honorary Secretary, she was a truly skilled, dedicated, advocate and organiser of Club events and policy.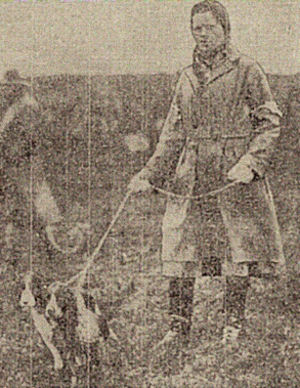 Miss. D. M. Fagan on Club Field Trials at Slane Castle.
Saturday October 29, 1932
Dorothy was an astute breeder and trainer of Cockers for the gun and had a reputation that reached far beyond these shores.
For example; - dogs such as F.T. CH. Lick Bla Billy (born 22/03/1921) won the Indian Kennel Club Cocker Championship Stake in 1934 for H.H. the Maharajah of Jind. (Dorothy having bred the title holder of this championship stake for three successive years at this point in time).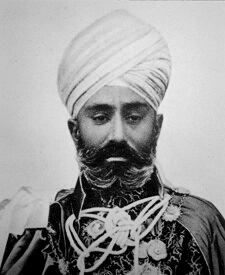 The last Maharajah of Jind and owner of F.T. CH. Lick Bla Billy.
Col. HH Farzand-i-dilband Rasikh-ul-itikad Daulat-i-inglishia Raja-i-rajgan Maharaja Sir Ranbir Singh Rajendra Bahadur. (1879-1948).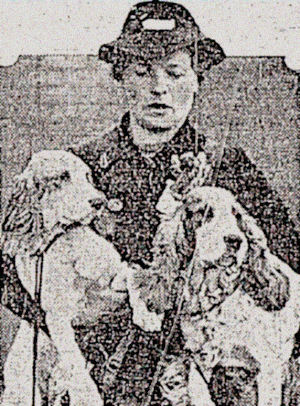 Miss. Dorothy M. Fagan, Pictured with two of her entries
at the Clubs Championship Show in 1942
Possibly her most famous breeding was the dog Lick Bla Jester - sired by James out of Lick Bla Ballerina, who went to Mr. H.S. Lloyd's Kennels and was renamed as Barney of Ware KCSB 1202KK, winning his English and Indian Field Titles for H.H. the Maharajah of Patiala.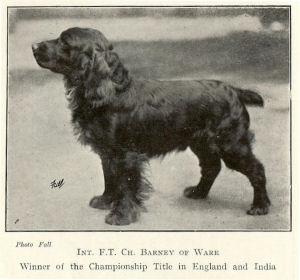 Perhaps a taste of her "Secretarial" character is recorded in her Club Secretaries notebook from 1956. The Hall had been booked, cheque for advance deposit sent by Mrs. Millner on the 10th and yet she ...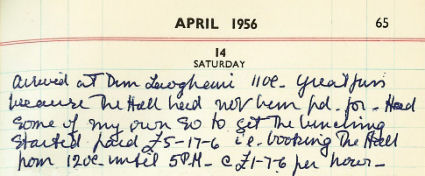 May 7th. 1956

June 24th. 1956

It took until August 21st. 1956 to get the refund back from the town clerk for the double deposit paid.

Not a mention is made in her notebook that her blue roan bitch Lick Bla Betsy took BIS in that year's Club Championship Show, other than the usual listing of Cocker Clubs show winners on the inside of the back cover. However her mention of the "£1-7-6 per hour" surely hints at her contained fury on the day.
Another anecdote recalls that while at a Club AGM, after a political manoeuvre that temporarily replaced her as Honorary Secretary, a pronouncement was made to write off a "Cash Special Prize" by the new incumbent from the Club accounts because it was not awarded for a couple of years. Dorothy stood and politely pointed out, the special could not be ignored because she actually had it with her in hand, wrapped in a sealed envelope waiting for the next recipient! Needless to say, "right beat might" and Miss. Fagan was restored to her position in due course.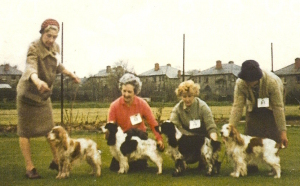 Cocker Spaniel Club of Ireland Champion Ladies - from left to right,
Mrs. I. M. G. Agnew with INT. CH. Lick Bla Bernice, Mrs. M. V. Liston with CH. Batella Blue Beard, Mrs. V. G. Clibborn with CH. Copperally Hightrees Blue Streak and last but not least; our Miss. Dorothy M. Fagan, Pictured with her CH. Lick Bla Buff.

Picture taken at the Club Championship Show on Saturday, 18 April 1964.
The Lick Bla estate, reduced over the years to a 67 acre residential holding was sold in the summer of 1993 and Dorothy, - althought active until the late 80's in the show circuit was now in a nursing home and sadly passed away in March of the following year aged 91.
Over 28 generations of Cocker spaniels onwards as we write, she leaves the Club with her personally written records as Club Secretary, the Cocker breed with her bloodline and must be surely remembered as a resourceful, formative and defining woman of her age. The Club will never see her like again.