Silver Slippers Cup
Silver Slippers Cup

Presented by

Mrs. E.B. Colahan.
First offered for the Club show in 1942 by Mrs. E. B. Colahan.
Offered
1942 Minor Puppy Dog - open to all of Ireland.
1968 Best puppy other than Black, Red or Golden.
1978 Winner Minor Puppy Dog.
Engravings/Plaques
1966 Mr. G. Connon's - Scardroy Best Bet
1968 Mrs. J. Mahon - Noham Battledore
1972 Dr. W. J. Roche - Arno of Waterfall
1975 Dr. W. J. Roche - Wicklow Hills Snowball
1985 Miss. A. Mills - Lowacre Dark Legend
1976 S. Ryan - Legal Eagle
1978 Mrs. T. Connolly - Volare Solerno
1982 Leo Whistons - Suerina Man of Fashion
1984 Mrs. E. Phelan - Majicem Stormy Night
---
Mrs. E. B. Colahan.
Of Ballinasloe, Co. Galway. Elected to Membership on October 8th, 1934. Hymany affix. Cup commemorates her blue roan bitch "Hymany Silver Slippers" who took five firsts and Best in Show in 1940. The Cup was originally proposed for Minor Puppy Dog limited to "Eire". Mrs. Colahan communicated her wish to change the remit to all Ireland on Tuesday January 6th, 1942 to Ms. D.M. Fagan, who promptly dispatched postcards notifying the change in conditions to the IKC and the "Irish Field". Conditions on this Trophy have remained unchanged since it was first awarded on Saturday, May 5th, 1942.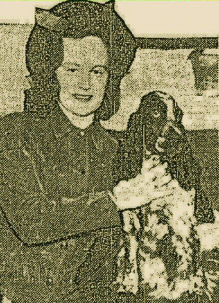 Miss Maureen Kiernan with Mrs. E.B. Colahan's "Hymany Silver Slippers", which won five firsts and a Green Star at the annual show held by the Cocker Spaniel Club of Ireland on on Saturday, April 4th 1940.