Best in Show Winners in Club Championship shows
---
1980
Fortbreda Shining Star
Born 03/07/1977, this bitch was owned by Mrs. R. Ryan. Sired by Talkback of Leinarb out of dam Fortbreda Morning Sunshine
Judge Mrs. Phyllis Wise (Astrawin).
---
1981

Baysway Mourne Maid
"Juno" - a light blue roan bitch from Mrs. William McEntee. Born on 30/04/1980, by Merrybray Montaud out of Wicklow Hills Show Girl.
Mr. T. G. Murphys solid dog Chantress King secured the reserve title. Bred by Mrs. M. Dalton on 25/07/1977, by Gamecock of Stoneykirk from Blackdale Little Griseld.
---
Owned by Mr. S. Bates. This Dog was born on 12/10/1980, from Bobbinbraes Solitair of Cornbow and Blenkarn Silk Ribbons.
---
An orange and White bitch born 30/01/1982, owned by Mrs. K. Creamer. Sire Cochise Chiricahua and Dam Cretoka Roxana.
---
1984
Kepplegate Touch of Gold
Owned by Mrs. M. F. Wilson.
The show was held on Saturday, 28/04/1984.
Graduate Bitch. Just the size I like for a bitch + very feminine in head, with dark expressive eye and sweet outlook, clean throat and well boned legs + feet. She is little short in back, with rounded quarters being so short she can't afford to carry too much weight. A worthy winner. Congratulations.
Judge Mr. Tommy Forster (Ashuex).
Mrs. M. Burke's dog Burlough Adam gained the reserve best in show title.
A tip-top dog from any angle lovely head chiseling, with expressive eye, reachy neck and shoulder placement short, - well ribbed body. Series over in this respect well handled. I had pleasure in awarding him the G.S.
Judge Mr. Tommy Forster (Ashuex).
---
1985

Mondella of Baysway
"Della" was a blue roan bitch bred and owned by Mr. William McEntee on 28/05/1984. Sire Baysway Danny Boy and Dam Merrybray Mokatika.
---
1986
Middlegill Magnus of Reaghbel
A blue roan dog, owned by Mr. T. Cardy. By Classicway Gordon Bleu and Blenkarn Magic Doll of Middlegill. Born 22/11/1982.
The show was held on Saturday, 26/04/1986.
Graduate. Blue Roan in excellent condition - looked a real dog. Good head, sweet expressive eye, good reach of neck with pleasing topline. Well ribbed firm body, strong square quarters, good legs and feet. Sound and free, moved with drive.
Judge Lt. Commander Howard Blake (Cochise).
Mr. Ronnie & Mrs. Alexa A. Brown, Ballynahinch, Co. Down, dog Most Appealing of Metkar secured reserve.
Open Bitch. Black in gleaming coat and excellent condition. Sweet head and expression. Bobby good reach of neck, pleaseing topline. Good base and body, strong neat feet. Merry and sound. Green Star.
Judge Lt. Commander Howard Blake (Cochise).
---
1987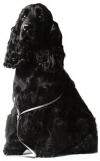 Mektar Ebenezer
Owned by Mr. R. & Mrs. A. Brown. Isaac the black dog was born on 05/06/1985 from Quettadene Emblem and Most Appealing of Metkar
---
A light blue roan dog, born 13/11/1986 and owned by Mrs. J. Perkins. From Classicway Concorde and Courtmaster Santa Lyria.
The show was held on Saturday, 23/04/1988 in conjunction with the Fermoy Championship Show.
NOV DOG: Light blue, well balanced, good head, neck & shoulders, level top line, that was well maintained on the move, shown in lovely condition. All in all a very nice dog that is capable of winning on both sides of the water.
Judge Mr. Peter Moore (Rosmore).
Metrustry's black bitch Daydawn Black Rose secured the reserve title.
LIMIT BITCH: Black, good head, neck and shoulders, well sprung ribs, best of feet and legs, moved + showed well.
Judge Mr. Peter Moore (Rosmore).
---
1989
Daydawn Black Rose of Lowacre
Owned by Mrs. F. M. Metrustry.
---